FAQ: Ultra-Premium Screen Protectors
Updated 6 months ago
Q. Tell me about the silver-ion coating - how can it prevent germs/microbes?
A. Silver-ion technology has been used in wound dressings and for protecting surfaces in hospitals for years. More recently, you might have seen door handle wraps using the same technology to help reduce the spread of Covid-19. When we set out to make the best screen protector in the world for your Tesla, we were not messing around, so we commissioned an independent lab to test the antimicrobial capability. You can see the detailed lab results here; but in summary, it offered >99.9% elimination of e-coli and Staph (aka MRSA). Since the silver-ion coating is literally part of the chemical composition of the screen, it will never wear off.
Q. What makes this the hardest protector?
A. Most 9H/tempered glass screen protectors are made from soda-lime glass, which is by far the most common type of glass in the world. It is shaped and mechanically shaved to the exact dimensions needed. Aluminosilicate glass is born strong, to the exact thickness needed. Since the shaving can cause micro-fractures, this makes aluminosilicate glass much stronger, and less likely to crack or fracture. Corning Glass™️ is made from aluminosilicate glass.
Q. How does the installation frame help (Model 3 & Y only)?
A. Unlike your phone, you can't install a screen protector for your Tesla on a nice flat surface in your kitchen. The frame encloses the center screen (Model 3 & Y, and the front screen in Refreshed S & X), and acts as a perfect alignment tool to aid the installation. The frame was introduced with our 3rd-generation screen protectors, and has received many great reviews. The rear screen on the Refreshed S/X uses the existing structure below the screen as an easy 'shelf' to use during installation.
Q. Why do the Refreshed S/X front screen protectors have a black border?
A. This is a really important feature. The screen has a slight bevel on it's edge, so the screen-printed black border adds enough thickness to ensure the screen protector fully bonds to the screen. Inferior screen protectors lack this border, and will eventually lead to a visible gap that will accumulate dust.
Q. How do I know which rear screen I have in my refreshed Model S or X?
Please refer to the picture below. The easiest way is to look at the side bezels, which are much thinner on S & X vehicles delivered (more or less) after December, 2022.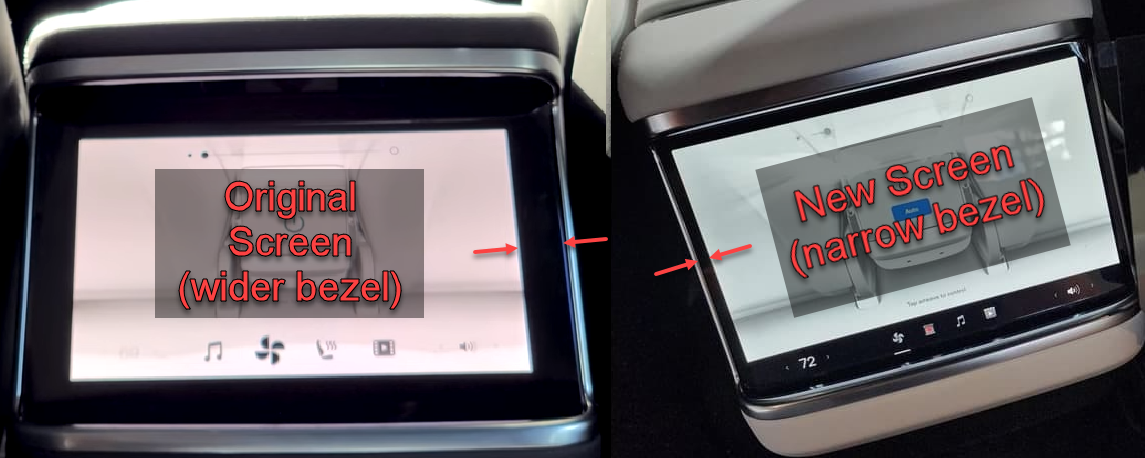 Q. What else do I need to know?
A. All of our protectors have an oleophobic coating to resist fingerprints and other oils, the same as your phone. Unlike your phone, the center screen doesn't get cleaned 15 times a day each time you put your phone in your pocket, so some fingerprints will still be there, but are easily cleaned away with a soft cloth, or one of our screen cleaners.  
Was this article helpful?